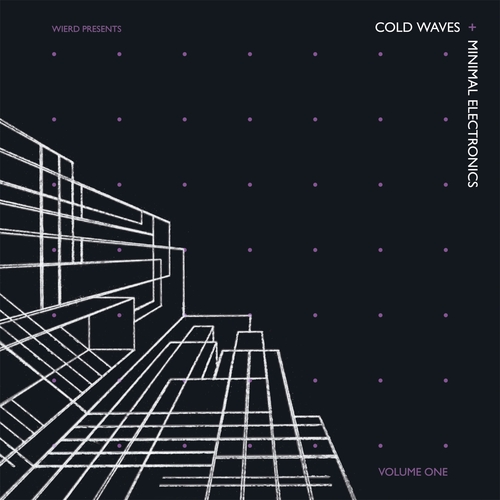 Cold Waves And Minimal Electronics Vol. 1
Available Formats
Tracks
Price
Buy
CD Album
17 tracks

£

9.99

Out of stock

12" Vinyl Album
17 tracks

£

17.99

Out of stock
Description
Various Artists - Cold Waves And Minimal Electronics Vol. 1
FORMATS:
CD Digipak, Double LP, Digital Download (includes 2 bonus tracks)
Angular Records are proud to announce the forthcoming release of 'Cold Waves and Minimal Electronics Vol.1' - a new 17 track compilation put together by New York's Wierd Records founder Pieter Schoolwerth and Angular's Joe Daniel. The album chronicles the secret underground cult genres of cold wave and minimal wave, which mostly originated from continental Europe between the years 1981-1985. This release will be available as a double LP gatefold, CD, and digital download on March 8th 2010.
Containing songs that have only been available up to now on ultra rare 7"s, lost radio sessions and cassette tapes , as well as never before seen photos and extensive sleeve notes about the genre.
'Cold Waves and Minimal Electronics Vol.1' is finally here to teach us all a thing or two about the history of electronic music the world over.
For more information visit the
release page
on the angular website or
Joe D's Coldwaves Blog.
You can also find more info about Pieter and Wierd Records
here.
Tracklisting
CD Album (ARC067CD)
Absolute Body Control

- Figures

Nine Circles

- Twinkling Stars

Linear Movement

- Night In June

Opera Multi Steel

- Ils S'eloigent

Bal Paré

- Palais d'Amour

Eleven Pond

- Watching Trees

The Vyllies

- Babylon

End Of Data

- Dans Votre Monde

The Actor

- Lights

Ausgang Verboten

- Consumer

Jeunesse d'Ivoire

- A Gift Of Tears

OTO

- Anyway

Ruth

- Polaroïd/Roman/Photo

Stereo

- Somewhere In The Night

The Neon Judgement

- The Fashion Party

Land Of Giants

- Cannibal Dolls

Days Of Sorrow

- Travel
12" Vinyl Album (ARC067)
Absolute Body Control

- Figures

Nine Circles

- Twinkling Stars

Linear Movement

- Night In June

Opera Multi Steel

- Ils S'eloigent

Bal Paré

- Palais d'Amour

Eleven Pond

- Watching Trees

The Vyllies

- Babylon

End Of Data

- Dans Votre Monde

The Actor

- Lights

Ausgang Verboten

- Consumer

Jeunesse d'Ivoire

- A Gift Of Tears

OTO

- Anyway

Ruth

- Polaroïd/Roman/Photo

Stereo

- Somewhere In The Night

The Neon Judgement

- The Fashion Party

Land Of Giants

- Cannibal Dolls

Days Of Sorrow

- Travel