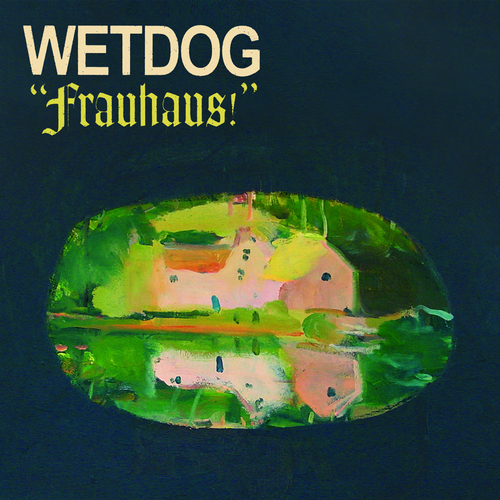 Frauhaus!
Available Formats
Tracks
Price
Buy
12" Vinyl Album
14 tracks

£

9.99

CD Album
14 tracks

£

8.99
Description
Wetdog - Frauhaus!
After the release of 2008's 'Enterprise Reversal', WETDOG played around the UK, seduced Mark Ronson and then quickly set about writing tracks for the follow-up LP, 'Frauhaus!'

WETDOG will not be seen in some bar in Dalston pretending to like Italo Disco. Sarah will be at home, crying and listening to Morrissey. Rivka farms a tortoise and chickens in the Kent countryside. Billy lives in Arsenal and likes lego. Together, they form a triad of female energy vibes not seen since Wilson Phillips. The band have an affinity with Welsh genius, counting Datblygu and Euros Childs amongst their influences (there are hints of pastoral climes in the melodies), but The Wicker Man, Jeremy Kyle, Syd Barrett and Robert Crumb are just as likely to feature in any album-related discussions.

Rivka Gillieron (guitar, vox), Sarah Datblygu (drums, vox) and Billy Easter (bass, vox) agree on one thing – hard and sparse music contrasting with vocal harmonies. After their last LP's 22 tracks, WETDOG were under strict instructions from their label Angular Records to deliver no more than 14 tracks. 'Frauhaus!' will be released on November 30th this year.

You can order the CD and the limited edition Heavy Weight Transparent Yellow Vinyl now!
Tracklisting
12" Vinyl Album (ARC063LP)
Wetdog

- Lower Leg

Wetdog

- Trehorne Beach Song

Wetdog

- Tidy Up Your Bedroom

Wetdog

- Trees Fall

Wetdog

- That Man Delivers Papers

Wetdog

- Night Comes Down

Wetdog

- Ethiopia

Wetdog

- Wymmin's Final

Wetdog

- Fist Face

Wetdog

- Snapper

Wetdog

- Round Vox

Wetdog

- Long Long Time To Go

Wetdog

- Waiting List (intro)

Wetdog

- New Year
CD Album (ARC063CD)
Wetdog

- Lower Leg

Wetdog

- Trehorne Beach Song

Wetdog

- Tidy Up Your Bedroom

Wetdog

- Trees Fall

Wetdog

- That Man Delivers Papers

Wetdog

- Night Comes Down

Wetdog

- Ethiopia

Wetdog

- Wymmin's Final

Wetdog

- Fist Face

Wetdog

- Snapper

Wetdog

- Round Vox

Wetdog

- Long Long Time To Go

Wetdog

- Waiting List (intro)

Wetdog

- New Year