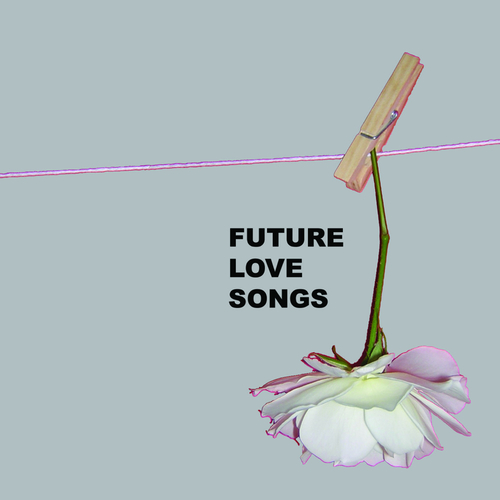 Future Love Songs
Available Formats
Tracks
Price
Buy
CD Album
16 tracks

£

4.99
Description
Various Artists - Future Love Songs
The third compilation to be released by Angular is a snapshot of romance, resistance and indignation in the underground music makers of the early 21st century. It does not conform to a specific genre, instead taking in the best of new music from across the land via New Cross, New York, Leeds, Sheffield, and Southend.
This is the compilation no indie savvy individual should be caught without.

The track listing is as follows:

1. Twisted Charm – Happy Alone
A Citroen estate, poncey footwear, songs about whores, boredom and human behavior, Twisted Charm aim to kick regurgitated r'n'r in the throat.


2. CaUSE Co-MOTION! – Which Way Is Up? (PHYSICAL VERSION ONLY)
Label mates of Love Is All on NYC's finest 'What's Your Rupture' records. Classic indie-pop – short, sharp, scratchy, scornful and rather splendid.

3. Klaxons – Gravity's Rainbow
The distillation of all the passion, energy and joie de vivre of both the rave and the moshpit.

4. These New Puritans – I Want To Be Tracy Emin
This is the music of the dark corners, part intellectual-salon part youth-movement.

5. To My Boy – Outrragions
A two-piece, they combine guitars, a synthesizer, arpeggiator, drum machine and vocals. Hurray for the beautiful machine.

6. Theoretical Girl – The Hypocrite
Theoretical Girl is just that a girl. With a style that makes reference to sixties pop as much as the new wave-isms that we might more readily expect.


7. The Long Blondes – Lust In The Movies
Their aim was to form a fantasy pop group: Nico, Nancy Sinatra, Diana Dors, Barbara Windsor: sexy and literate, flippant and heartbreaking all at once.

8. The Violets – In This Way
Inhabits a starkly lit world of uncompromising stylized glamour, 
surrealist imagery, and a musical style, which seems to see feedback as just another option in the chord progression.

9. The Lodger – Simply Left Behind
Leeds bed-sit disco, reminiscent of Soft Cell or Pet Shop Boys and the adolescent yearning of early period Buzzcocks or The Smiths.

10. Lost Penguin – Pleasurewood Kills
Punk, electro, pop, indie lunacy.

11. The Be,Be,See – Eye T.V.
A 'TV concept band', united by a passion for blockbuster action movies, tabloid papers, catalogue clothing and ready-made meals.

12. The Vichy Government – Elvis And The Beatles
Casio nihilist duo and the most offensive band in Britain according to Manics biographer Simon Price. They also supported the Scissor Sisters in 2005.

13. Navvy – My New Building
Sheffield's Navvy are 1/2 Welsh speaking, feature shared-vocals, two percussionists, songs dedicated to buildings and the "Percussion Tree".

14. Wetdog – Magnet Face
Three girls of The Slits/Delta 5/Mo-Dettes early Rough Trade mould. Simple arrangements, winning melodies, played shambolically. DIY at its finest.

15. The Low Edges – Leave The House
Fire & brimstone country preaching: mean, terse and brooding. They describe themselves as indie rockabilly country.

16. Mitten – Poveri Rovinatori
Very strange new folk indeed!!!
Reviews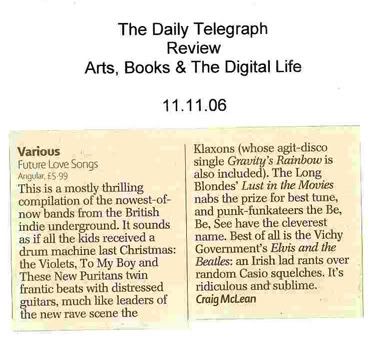 Tracklisting
CD Album (ARC017)
Twised Charm

- Happy Alone

caUSE co-MOTION!

- Which Way Is Up?

Klaxons

- Gravity's Rainbow

These New Puritans

- I Want To Be Tracy Emin

To My Boy

- Outerregions (Demo)

Theoretical Girl

- The Hypocrite

The Long Blondes

- Lust In The Movies

The Violets

- In This Way

The Lodger

- Simply Left Behind

Lost Penguin

- Pleasurewood Kills

The Be Be See

- Eye T.V.

The Vichy Government

- Elvis And The Beatles

Navvy

- My New Building

Wetdog

- Magnet Face

The Low Edges

- Leave The House

Mitten

- Poveri Rovinatori